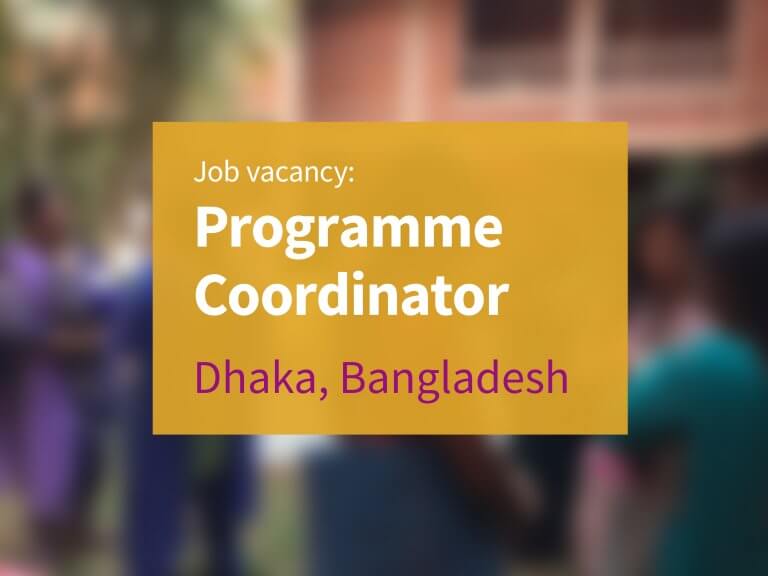 Job vacancy: Programme Coordinator, Dhaka Bangladesh
The Swallows is looking for an experienced development cooperation practitioner with in-depth knowledge in PMERL, rights-based development programming and capacity building
Job Station: Dhaka (40% of total working hours for field visits)
Type of Position: Full time Regular Staff (Sunday-Thursday, 40 hours per week)
Preferred date of start: 1 March 2019
About The Swallows India Bangladesh:
The Swallows India Bangladesh is a non-profit development organization based in Lund, Sweden. The vision of The Swallows India Bangladesh is "a just world, free from poverty, where people have power to influence their own lives and live in solidarity with each other in a long term, sustainable relationship with nature".
Its mission is to contribute to a society where human rights are respected and where sustainable development within society is viable. The Swallows India Bangladesh will do this in cooperation with local partner organizations and the civil society in both South Asia and Europe. The Swallows is committed to addressing the root causes of poverty through fighting injustice and inequality within the framework of human rights.
In Bangladesh, we are currently working with six local Partner NGOs with specific focus on grassroots people's empowerment, farmer rights to sustainable agriculture and natural resources, women empowerment, gender and climate justice. In alignment with Bangladesh government's 7th five-year plan, local laws and policies, and international commitments including SDGs and other binding rules at national and international levels, our programme has been developed in order to create enabling environment for landless, marginalized and poor people, to claim their rights and entitlements, and a rights based approach is applied throughout the programme. It also assists landless poor people to be organized into self-help groups and community based organizations, building collective voice and facilitating their social and economic empowerment and development.
Job Description
The Programme Coordinator's main duty is to work on planning, monitoring, evaluation and reporting of the Swallows programme within Bangladesh. The Swallows works in close collaboration with our partners and the work includes frequent field visits and contacts at grass root level as well as organizing partners meetings and carrying out capacity building initiatives with partners. The Programme Coordinator works in close cooperation with the rest of Swallow's programme team, primarily Controller/Programme Staff in Lund, Sweden and Programme Staff in Bangalore, India.
Written and verbal proficiency in both English and Bangla is a must for our work.
The Programme Coordinator will have the following general, as well as programme, administrative and finance responsibilities.
General – The Programme Coordinator is the link between The Swallows and its partners in Bangladesh and also the link to other stakeholders in the country. She/he should be updated about the present situation in the country in order to give The Swallows relevant information to analyze the organization's presence in the country and to use in information work, and in proposal writing.
Programmes and Partners – To participate in networking and contribute to building network between partners and other stakeholders in the NGO sector in Bangladesh. To have overall responsibility for the programmes/ projects supported by The Swallows in Bangladesh, which means:
– being in regular dialogue with all the partner organizations of The Swallows
– project design and monitoring tools development together with partners and Swallow's office in Lund
– analysis of project activities and its budget
– need assessment on partner's capacity building/skill and design training/workshop accordingly
– organize and facilitate partners' steering committee meetings/national partners' meeting
– prepare the completion reports of the country programme as per donor requirements and documentation of best practices
– develop Terms of Reference (ToR) for mid- term and final evaluation of projects together with Swallow's Lund
– prepare monthly reports specially for the programme/partners section
– together with partners, ensure that the work within the projects are proceeding according
to plan and towards the stated objectives / results
– together with partners monitor partners work, especially the part of their work that is
financially supported by The Swallows, and to report back to/have a close dialogue with Swallow's in Lund
– regularly make visits to partners offices and to their work in field, to follow up on these
visits and write reports to the Swallow's in Lund
– discussing with partners the results of the monitoring, methods of organizational
development as well as capacity building
– discussing planning with partners, and ensure, that meetings and training courses within the
project are implemented
– discuss strategies with partners and analyze the work of the projects and, if necessary,
ensure that the plans will be changed in order to reach the decided results of the projects, and to keep Swallow's in Lund in the loop and to involve them in strategic issues
– be responsible for reporting (The Swallows/ NGOAB etc.) of the programmes and also to collect, evaluate, aggregate and send annual reports from partners' work supported by The Swallows ahead of deadlines
– to develop new partnerships and the programme, in discussion with the Office Director and the Swallow's in Lund
– to regularly and frequently visit partners in the field, stay for several days and report back
– other programme/ project related tasks
Administration: i) To assist the running and day-to-day activities of Swallows' Dhaka Office such as organizing meetings and other arrangements, contact with partner organizations, contact with resource persons, making formal and informal translations etc. ii) All practical planning before and after a meeting, seminar or fieldtrip i.e. arrangement with venue, food, accommodation and transport, provide the partner organization or other participants with necessary information and material and organizing the reimbursement of costs; iii) To be responsible for office and staff safety and security; iv) filing and managing knowledge, resources and documentation.
Report to: The Programme Coordinator will carry out the assigned work in close connection to and in collaboration with the Director of the Bangladesh Office as well as the colleagues at the Swallows' offices in India and Sweden. She/he is reporting to the Director of Bangladesh office. In the absence of the Director of Bangladesh office –the Programme Coordinator is her substitute.
Required Education, Skills, and Experience:
Education: Masters' degree especially from Social Science, Sociology, Anthropology, Human rights, Social Welfare/Work, Development Studies, Women and Gender Studies, Environmental Science, Agricultural Science, and other relevant fields.
Experience:
Minimum 8 years hands-on experience in the areas of marginalized community development, farmers' rights, environmental justice, conflict sensitivity, gender justice and women empowerment and other relevant areas in national / in international NGOs.
Of those, 5 years in multi-project management of local level NGOs and CBOs through partnership approach
Working experience with the community people at the grassroots level, and building their capacity so that they become aware of their rights especially agricultural rights, women rights, citizen rights etc. and thus claim their rights.
Relevant experience in programme coordination for managing local partner NGOs and CBOs, and financial management of the projects with partners.
Essential Competencies:
Project Coordination – Proven skills in project coordination through partnership approach; expertise in using PMERL.
Project implementation – Excellent project implementation skills; in-depth knowledge on developing log frames; reporting the project outcomes according to the log frames.
Communication – Excellent oral and written communication skills in English; regular Skype/phone communication with HQ in Lund.
Relationship Building – Ability to build effective working relationships within a small team, and within a larger group of the project stakeholders; Excellent negotiation skills and interest in and patience to listen and learn.
People Management – Experience in managing team /Volunteers and partner staffs. Solidarity to the communities, and their struggle and social movement are the key spirit of people management.
Planning and organizing skills– Excellent planning and organizing skills; high ability to work in a stress situation.
Experience in RBA – Practical experience of working with grassroots people and partner NGOs through working lenses of RBA, social mobilization, gender justice. Also important to have understanding of the Theory of Change.
Capacity development skills – Ability to facilitate capacity development workshops, and training for the staff, and partners, and CBOs.
Time management – Excellent time management skill and maintains to do list.
Financial management– Experience of and interest in managing project budget, monitoring budget, ensuring rate of budget expenses, and reporting on the financial reports from the partner NGOs.
Problem-solving and decision-making skills – Identify field problems and share with the project team to solve the problems; Provide appropriate decisions to the project team as per requirements.
Report writing skills –prepare different kinds of report (monthly, mid-term reports, bi-annual reports, annual reports, evaluation reports, project reports, etc.) and share with partners and HQ in Lund.
Computer literacy – Both Bangla and English typing, emailing and internet browsing.
Desirable Competencies:
Flexibility – to be positive and flexible in project operation.
Personal competencies – Analytical and problem-solving skills; Communication and pedagogical skills; Flexibility and ability to adapt work to shifting contexts, situations and needs; ability to work with an elevated level of independence; collaborative skills; and ability to deliver results and meet dead-lines. Holding a pluralistic and inclusive moral value to promote social harmony. Ability to work in a team.
Commitment – Commitment to the Swallows India Bangladesh's work and values. Showing highest integrity to the Swallows as well as to the partners. 
Salary and Benefits: As per organizational policy, a competitive compensation package will be offered to the deserving candidate.
Application Procedure:

If you feel that your qualification and experience matches with our requirements, and you have a shared commitment to the values of the Swallows India Bangladesh, please send the following docs in a combined .pdf file at jobs@svalorna.org:
i) one-page cover letter ii) three-page CV (including detailed contact details of two referees) iii) one letter of motivation on why you are interest to apply for this position and organization; iv) details of your current remuneration package and salary expectations.
You please must mention the position title at subject line of your email.

Closing Date of Application: 11 January 2019

Note: A complete application will only be considered for further scrutiny;  Only short listed candidates will be invited for written and oral test; No TA/DA will be provided for taking part in the selection procedure; No canvassing; The Swallows India Bangladesh is an equal opportunity employer.